What is an MTL Tank?
Posted by Richard Broke on Apr 17th 2020
If you're among the millions of smokers trying to quit, or you've been vaping for a while and you're looking for a new experience, mouth-to-lung (MTL) vaping might be the best choice for you. MTL vaping is becoming more popular among users, thanks to its stellar performance. Choosing between MTL vaping and direct lung vaping all comes down to the equipment and vape juice you use. But the decision will shape your overall vaping experience. There's no right or wrong method, but each has its own advantages. Learn more about MTL vaping and MTL tanks, so you can decide if this type of vaping experience is right for your needs.
What Is an MTL Tank?
MTL tanks are designed to provide an experience that mimics cigarettes, making them a popular choice among ex-smokers. Due to this, they are often used with high-strength, nicotine vape juice. That said, MTL tanks aren't exclusive to vapers looking to transition away from cigarettes. Many vapers enjoy the concentrated flavor and restrictive airflow that MTL tanks provide. This is due to the higher-ohm coils that run on less wattage, creating smaller clouds that are more discreet.
Mouth-to-Lung Vaping
Mouth-to-lung vaping is essentially the same as how most people take a drag off a cigarette. The vape is sucked into the mouth, held for a few seconds, then inhaled into the throat and lungs, and exhaled. Due to the similarity to the experience of smoking combustible cigarettes, MTL vaping is common among newer vapers. In addition to simulating the action of smoking a cigarette, the sensation is much closer. The burning and tingling in the throat (throat hit) is subtle, providing a smoother sensation when compared to the harsh, less authentic experience of direct-to-lung vaping. MTL vaping is also appealing to vapers looking to experience the maximum flavor with a small cloud. Because the vapor is held in the mouth, the tongue has an opportunity to appreciate the nuanced flavors in the vape juice. The low cloud production is preferable for vaping in public as well, especially in areas with children. This is accomplished with the following features:
Narrow airflow channels to and from the coil: These provide you with some resistance when vaping, causing the air to flow through a restricted area to reach your mouth. This creates a tight draw.
Single round-wire, high-resistance coils: Most MTL coils are constructed from a fine, round wire that will not vaporize too much vape juice at one time, providing a lower consumption of high-nicotine vape juice. These can be powered at a lower power range than larger, multistrand coils.
Smaller chimneys: The reduced chimney size maximizes the flavor of the vape juice, while also ensuring you get a strong, defined throat hit.
Thin-bore 510 drip tips: The thinner mouthpieces reduce the airflow and create a sensation similar to that of smoking a cigarette.
MTL Vaping Versus Direct Lung Vaping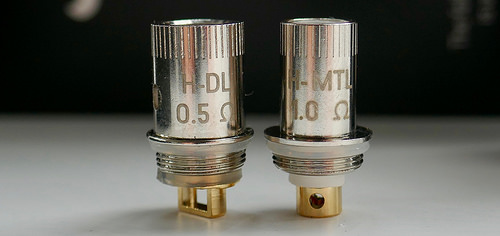 Image via Flickr by jonnwilliams MTL vaping is when you take a drag of vapor before inhaling it into the lungs. MTL vape tanks are designed for this type of use and will have a narrower drip and tighter draw to provide the best experience. MTL vapers report a more pronounced flavor when MTL inhaling and claim it's much closer to the sensation of smoking. With direct-lung (DL) vaping, you take a direct draw into the lungs. This is more common with exclusive vapers, though some vapers choose this method because it's close to the way they smoked cigarettes. DL vaping was traditionally only done by vapers that used drippers. But now tanks are on the market to accommodate a wide variety of vapers. These are mainly in the form of sub-ohm tanks that have wider bore drip tips and increased airflow.
How to Use an MTL Tank
Using an MTL tank isn't that different than conventional vaping, but it does take some getting used to. Begin by priming your coil. Drip around five drops of vape juice in the center of the coil and fix it to the atomizer. Fill up the tank completely, and allow it to rest for a period of time to saturate the wick. This prevents a dry hit that can occur as soon as you fire up the tank. Check the recommended wattage of the coil. This is usually found on the coil itself or its packaging. Begin firing at the lowest recommended wattage and work your way up, increasing the wattage by one watt for every few hits. This will help you find your ideal level without causing unnecessary stress to the coil. Be careful not to exceed the recommended wattage, since most tanks are rated accurately. Exceeding the wattage can cause unpleasant dry hits. When you are just starting out, be careful not to be too vigorous with your draws on an MTL tank. Start with slow, steady pulls with little force, allowing you to adjust to the experience. If you pull too hard, you could choke on the airflow and cough excessively.
Benefits of MTL Tanks
In addition to the many benefits of MTL vaping, MTL tanks offer some unique advantages of their own.
Size: MTL tanks are generally smaller than sub-ohm tanks and more portable. The typical diameter is 22 millimeters, and many MTL tanks are smaller than that. To compare, a typical sub-ohm tank is roughly 24 millimeters.
Vape juice consumption: An MTL tank uses less vape juice, since the parts that make up the tank are smaller than other tank types. Smaller coils and wick holes leave less juice on the coil, so you consume less juice.
Discreet vaping: The low vapor production makes vaping in public more discreet. This is commonly referred to as €œstealth vaping.€ If you like to vape in public places and don't want to disturb others, an MTL tank is the best way.
Nicotine salt compatibility: Nicotine salts are often used with pod systems and starter kits. But an increasing number of MTL tanks have coils designed for nic salt compatibility.
Less leaks: All tanks have the possibility of leakage, but the smaller airflow channels of MTL tanks ensure the leaks are small and won't cause damage. In addition, smaller tanks make it easier to troubleshoot the leaking problem.
Coil longevity: With less vape juice going through the coils, they tend to last longer. Generally, the coils in an MTL tank can last around one to two weeks with average use.
Disadvantages of MTL Tanks
Despite the benefits of MTL tanks, there are a few drawbacks users should consider.
VG-PG ratio: Most MTL tanks have smaller wick holes and single wire coils. The coil technology has advanced considerably in recent years, but it's still recommended to go up to 70 percent VG on an MTL coil, unless it's designed for high-VG vape juice.
Fewer vape juice options: MTL tanks are designed for use with higher nicotine strength vape juice. Premium vape juices are usually only found in strengths of up to 6 milligrams of nicotine, which is too much for an MTL tank. In these cases, nic salts are the best option to get the nicotine strength you desire.
Small clouds: Though we mentioned this as a pro, some vapers are specifically looking for huge clouds that can't be accomplished with an MTL tank. An MTL atomizer is designed for use with higher nicotine strengths and only produces enough vapor to satisfy cravings, so it won't be satisfying in this respect.
Best MTL Tanks
Aspire Nautilus X Compact MTL Tank
Aspire is a well-known name in the MTL tank market. The Nautilus X Compact MTL tank is specially designed to provide a flavor-specific vape experience grounded in the U-Tech Coil Technology. It works with the top airflow system to create a one-of-a-kind MTL experience. Features:
Compact size €" 45 millimeters in length.
2-millimeter tank.
Top-threaded refill system.
1.5-ohm coils designed for MTL vaping.
Two 4- by 1-millimeter air slots.
Sturdy build.
Flavorful vape.
Innokin Zenith MTL Tank
The Zenith is the latest tank offering from Innokin, designed by the vape-famous duo Phil Busardo and Dimitri. It offers a clean design and a variety of color options, as well as a 4-milliliter capacity and two different drip tips. Features:
4-milliliter capacity.
Twist-top filling system.
Multiple airflow options.
Quick coil cleaning.
1.6-ohm and 0.8-ohm Zenith coil, pre-installed.
Vandy Vape Berserker Bottom Feed MTL RDA
The Vandy Vape Berserker Bottom Feed rebuildable atomizer, inspired by Alex from VapersMD, is one of the best MTL RDAs for maximum flavor. It offers an 18.1-millimeter rebuildable tank and utilizes an 8-millimeter juice well and six interchangeable internal air slots, including 3.1 millimeters, 1 millimeter, 1.6 millimeters, 1.4 millimeters, 1.2 millimeters, and 2 millimeters. The build deck easily accommodates small builds that are often used for MTA vaping.
18.1 millimeters.
Two-post, single-terminal build deck.
Six adjustable-side air slots.
Interchangeable internal air slot sizes.
3-millimeter bore ULTEM drip tip.
Gold-plated 510 pin.
Silverplay 24-mm Multi-Airflow RTA
The Silverplay RTA is a rebuildable tank atomizer that features a two-post, single-coil build deck; interchangeable, internal airflow caps; and an adjustable, internal juice flow control. It can hold 2 milliliters of vape juice and accommodates the small builds that are usually used for MTL vaping, though it can also be used with DL. It comes with a 7- by 1-millimeter airflow slot shield, one 19- by 0.5-millimeter airflow slot shield, and one 2- by 3- by 1-millimeter combined with a single 5- by 1-millimeter airflow slot shield. Features:
24-millimeter diameter.
2-milliliter juice capacity.
Two-post, single-terminal build deck.
Adjustable, internal juice flow control.
Interchangeable, internal airflow caps.
Single adjustable airflow slot.
Stainless steel and glass construction.
5-millimeter bore 510 ULTEM drip tip.
5-millimeter bore 510 DELRIN drip trip.
Gold-plated 510 pin.
Vapefly Galaxies MTL BF 22MM RDTA
The Vapefly Galaxies MTL BF 22mm RDTA is a creation that offers multiple design choices to ensure it is always ready for use, such as dual wicking ports, a 2-milliliter vape juice capacity, a spring-loaded juice fill port, and a gold-plated, bottom-fed design. There are two posts and a single, top-mounted hex screw on each side of the build deck to ensure performance. Features:
22-millimeter diameter build deck.
Ni80 26-gauge, prebuilt coils.
Two strips of agleted cotton.
Two 3-millimeter wicking ports.
2-milliliter juice tank.
Six levels of airflow control.
Top cap heat-dissipating design.
5-millimeter-wide 510 DELRIN drip tip.
Asvape Zeta 22mm MTL RTA
The Asvape Zeta 22-mm MTA rebuildable tank atomizer features a postless build deck, a ceramic base, and a chamber to provide excellent, rich flavor. It has a 2.5-millimeter juice capacity and airflow enter through a 9- by 1-millimeter airflow slot located at the bottom of the atomizer. The build deck accommodates the small builds that are usually used for MTL vaping.
22 millimeters.
Threaded top fill system.
2.5-milliliter tank section.
Postless, dual terminal build deck.
Dual wicking ports.
Single adjustable bottom airflow.
3-millimeter bore drip tip.
Gold-plated 510 pin.
Squonk pin capable.
Hellvape x Heathen Dead Rabbit 22-mm RDA
Hellvape x Heathen Dead Rabbit 22-mm RDA features a top terminal, two-post build deck with gold-plated positive posts and a 5-millimeter deep juice well. Airflow enters this tank via a top side, diagonal adjustable airflow, which focuses on flavor and is adjustable for MTL, as well as minimizing leaks.
22-millimeter diameter.
Top terminal two-post build deck.
Single- or dual-coil options.
Gold-plated positive posts.
5-millimeter deep juice well.
PEEK insulator.
Top side, diagonal adjustable airflow.
Adjustable for MTL.
7- by 2-millimeter air slots.
Rich flavor.
Minimal leaks.
Knurled grip to adjust airflow.
9-millimeter-wide bore 810 resin drip tip.
4-millimeter bore 510 DELRIN drip tip.
Gold-plated 510 connection.
Gold-plated bottom feed pin.
304 stainless steel construction.
Which Vaper Are You?
Now that you understand the differences between MTL and DL vaping, you're ready to see which is the best choice for your needs. Though these are two broad categories that include most vaping methods, with experimentation, you may discover you enjoy both styles and want to include them in your routine when you're looking for a change of pace.